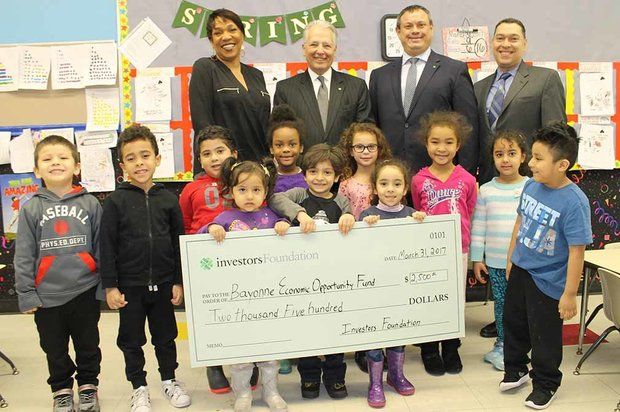 The Bayonne Economic Opportunity Foundation (BEOF) recently received a $2,500 grant from the Investors Foundation to partially fund the "Say Yes to Literacy" summer day camp. Shown with students who attend the Head Start program are from left to right BEOF Executive Director Samantha Howard, Investors Bank Sr. V.P. & Regional Manager Robert Zajac, V.P., Bayonne Branch Manager Ronnie Sevilla and BOEF CFO Anthony Segarra. (Courtesy photo)
The Bayonne Economic Opportunity Foundation (BEOF) is inviting local students to participate in this year's "Say Yes to Literacy" summer camp beginning in June.
The camp will be partially funded through a $2,500 grant from the Investors Foundation, the charitable arm a community-oriented group affiliated with Investors Bank that assists organizations that invigorate their local communities with civic-minded initiatives focused on arts, education, health and youth programs.
"We are grateful to Investors Bank and the Foundation for providing a generous grant that will partially cover our costs to run the literacy program," said BEOF's executive director Samantha Howard. "Since the camp begins right after the school year ends, we can extend each student's 'learning mindset' within a positive, enriching, and caring setting."
The summer camp will run from June 26 to July 14, and is open to children ages 5 to 12.
Guided by certified teachers, the summer camp program blends fun activities, outdoor play and field trips with education. It also focuses on connecting children with all that is around them through an environmental themed curriculum. There is also a scheduled trip to the Liberty Science Center.
One of last year's projects involved visiting local businesses to find out how companies recycle various materials.
Students will create books that recount what they learned and discovered during the camp. The plan is for the older students to write the content and the younger children draw illustrations or select photos for the book.
The BEOF will hold the camp in one of its three buildings in Bayonne, where it also hosts the Head Start program.
More details about how to register for the camp are available at BEOF website or by calling 201-437-7222.